Rotovac
"Carpet Cleaning – Low Pricing with Professional Results!"
Kansas City Service Areas: Lee's Summit MO, Lake Lotawana MO, Independence MO , Blue Springs MO,
WE USE

CARPET RESTORATION SYSTEM!
Standard Equipment incudes:

Kohler 27 HP V-Twin engine.

Roots 4.5 Whispair Dual Splash Lubricated blower.

Cat 3CP high pressure pump with clutch for flood work.

195,000 BTU Kerosene or 125,000 BTU Propane heater.

75 gallon stainless steel recovery tank guaranteed for 10 years.

Unique vacuum relief system allows

long hose runs of 500 to 700 feet.


Weighs only 600 lbs.

THE BEST EQUIPMENT FOR YOUR CARPET CLEANING NEEDS!
Scroll down and read about the revolutionary Rotovac Hot Water Extraction Restoration System
for cleaning your Carpets, Rugs and Upholstry Furniture…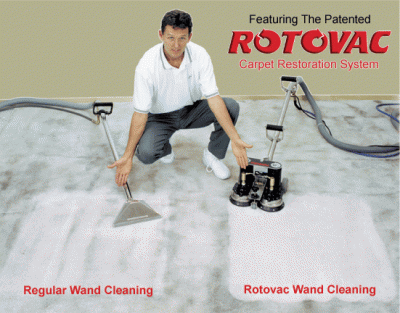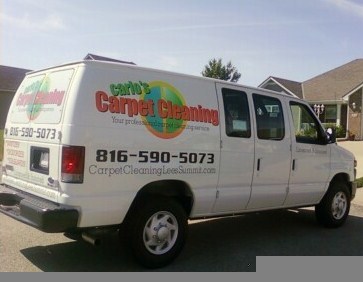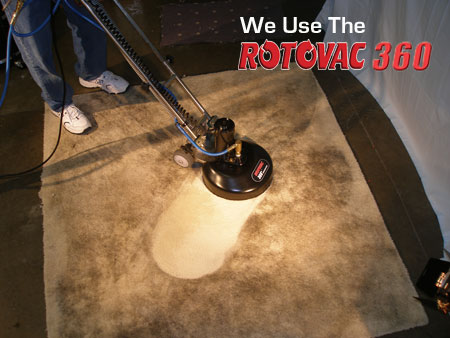 Why Rotavac?


Why is hot water extraction the best way to clean your carpet?
Pulverizes dirt trapped beneath carpet fibers.
Dissolves most every type of carpet stain.
Deep cleans down to the backing.
Removes allergens, dust mites, chemicals, etc.
Restores your carpet to like new appearance!
Other processes of carpet cleaning simply cannot provide these kinds of results. Dry cleaning processes are unable to penetrate the carpet fibers to remove the dirt trapped deep within. Stains are likely to come back to the surface following a dry cleaning process. As a dry cleaner attempts to clean the carpet, stains that are embedded in the carpet fibers will be drawn up because the process is unable to provide a deep cleaning.
Here's How The Rotovac System Works!
Excellent for that deep ground in dirt and the toughest stain removal on carpets…
The Rotovac's Rotary Jet Extraction cleaning head rotate over the carpet at 250 r.p.m. Constructed form solid cast stainless steel, the cleaning head has three protruding vacuum slots and three spray jets producing 1500 multi-directional injection/extraction cleaning passes per minute, thoroughly cleaning all sides of the carpet fiber. The unique dome-shaped design of the cleaning head encapsulates the spray jets to create a "Steam Chamber" effect in the cleaning zone, delivering maximum heat to the carpet fiber. This powerful combination of heat, agitation and rotary flushing action enables the Rotovac to clean heavily soiled and matted carpet far more effectively than a conventional wand.